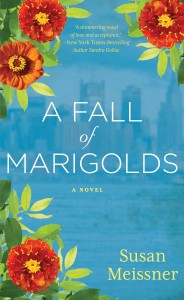 Whether you're here to get to know me a little better, find out more about my books, or to see what's new in my writing life, I'm glad you're here! If you're a member of book club, please check out the For Readers page I have just for you.
My latest book, A FALL OF MARIGOLDS, hit bookshelves everywhere on February 4th! You can learn more about the book here as well as buy a copy.
This story will take you to the halls of Ellis Island's Hospital in 1911, as well as the streets of Manhattan in the present day. It's story about love, and the wonderful, aching truth that while it hurts to lose it, love can find its way back to us if we don't close our hearts to it.
Kirkus Reviews had this to say about this new book: "Meissner is a practiced writer whose two main characters cope with universal themes that many people deal with: loss, survivor's guilt, and permitting oneself to move on and achieve happiness again . . .the author creates two sympathetic, relatable characters that readers will applaud. Touching and inspirational."
Enjoy!

"Meissner's prose is exquisite and she is a stunning storyteller."
Publishers Weekly